Here you can find the latest information about any Cloudserve system issues, interruptions, outages or planned maintenance.
Experiencing a problem that isn't listed below? Please contact us for assistance.
---
Azure Virtual Machine Outage

 

Impact Statement: Starting at 07:00 UTC on 13 Oct 2021, a subset of customers using Windows Virtual Machines may experience failure notifications when performing service management operations – such as create, update, delete. Deployments of new VMS and any updates to extensions may fail. Non-Windows Virtual Machines, and existing running Windows Virtual Machines should not be impacted by this issue.

Current Status: We are aware of this issue and are actively investigating the issue. The next update will be provided within 60 minutes, or as events warrant.

 

P Please consider the environment before printing this e-mail. Thank You

This email and its attachments may be confidential and are intended solely for the use of the individual to whom it is addressed. Unless otherwise indicated, any views or opinions expressed are solely those of the author and do not necessarily represent those of Cloudserve Ltd. If you are not the intended recipient of this email and its attachments, you must take no action based upon them, nor must you copy or show them to anyone. The use of this information or any disclosure, copying or distribution is prohibited and may be unlawful. No confidentiality or privilege is waived or lost by any mistaken transmission. If you believe you have received this email in error then please contact the sender and delete this email and its attachments. CloudServe  recommends that all emails received by this recipient are scanned appropriately for viruses. Cloudserve is registered in England & Wales with the registered number 06950390. The Company's principal place of business, and registered office, is 145-157 St John's Street, London, EC1V 4PY, United kingdom.

 
If you experience any issues outside of the planned maintenance window, please let us know by emailing support@cloudserve.co.uk.
---
Datacentre Uptime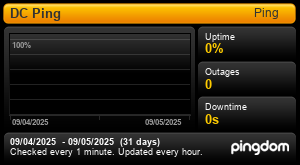 Datacentre Response Time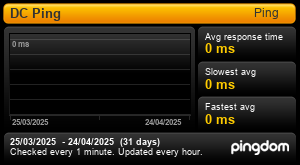 ---